Content operations
Make sure you don't lose information shared during a meeting, whether locally or online outside the room.
kMO uses two powerful tools to make your meetings run as they should: first, EasyCast from the French start-up UbiCast.
EasyCast is a range of solutions used to record your classes, training sessions, and seminars, and to publish them online or on your intranet as Rich Media.
The EasyCast system's first step is to automatically record your presentations.
"For EasyCast stations, UbiCast has developed an automatic framing technology that starts recording as soon as a presenter enters a predefined area. To achieve this automation, EasyCast combines:
a robotic Pan-Tilt-Zoom (PTZ) camera that uses IP technology to forward the image and control to the EasyCast unit.
a software algorithm that analyses video streams from the camera in order to send appropriate commands.
When a room is fitted with EasyCast, key areas such as the whiteboard or a stand are entered once only during the initial settings.
All that the presenter has to do is press "Record" and EasyCast takes care of the rest. EasyCast automatically produces dynamic content."
This dynamic content - together with a number of key words taken from the presentation itself - is shared through shared media: intranet, WebTV, etc.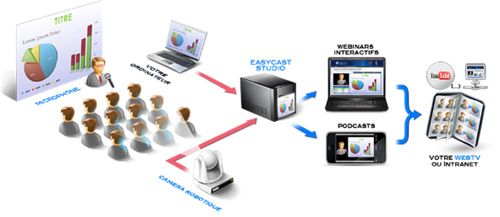 kMO also provides video/audio conference recording solutions with its POLYVISION and LIFESIZE systems
The LIFESIZE system includes UVC Video Center™ in your UVC (see video conferencing page) solution.
With a simple press of a button, you can record and broadcast management bulletins, sales meetings and training sessions, or even share data, diagrams, and images.
With POLYVISION, we also include Video as a Service (VaaS) for video conference post production.