Automation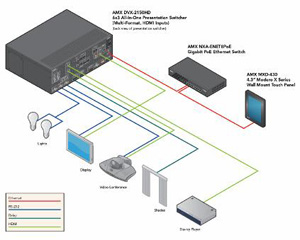 Home automation has now become accessible to all, and its increased popularity has led to a broad range of options from major electrical appliance manufacturers. A building's main electrical functions can now be controlled remotely: alarms, heating, air-conditioning, sound systems, etc.
The professional automation systems used by kMO provide the same broad features.
Yet experience shows that the need for automation in communication centres concerns primarily two features:
audiovisual: projection screens, video projectors, LCD screens, audio players, etc.
lighting: lamps, ceiling lights, automatic blinds or shutters.
Furthermore, our automation systems come in all sizes to suit any budget: an executive office, an auditorium, a multimedia meeting room... the list goes on. The control screen and the automated devices communicate in both directions: you can control your devices as well as receiving feedback on all parts of the system (e.g. device status - on/off
The internet can also be used to connect to the automation system remotely.
kMO extras:
Our solutions focus on an intuitive and simple control centre.
While current technology means that a number of adjustments and sub-menus are available, the system must be intuitive and easy to use for users to feel comfortable operating the system.
The straightforward and attractive graphic user interface removes any need for knowledge of programming languages.
We offer products from the sector's leading brands, as well as competitive solutions from lesser known suppliers.